Pain and chronic health issues can limit how we want to live.
Low back pain, neck pain, and headaches can limit the activities we love to do. Chronic health issues like metabolic syndrome, diabetes, and autoimmunity can impair our quality of life. At Soma Chiro & Functional Medicine, Dr. Senyi offers the residents of Saint Paul & Minneapolis a unique and natural solution to these and other health issues. He uses effective, conservative natural care, like chiropractic and functional medicine, to help patients regain control of their lives.
Effective Pain Relief
Pain should not stop you from enjoying life fully. We use gentle chiropractic adjustments and soft tissue therapies to get you out of pain effectively so you can enjoy life fully again.
Easy Active Care
Stiffness and soreness that accompanies pain can limit the types of activities you may enjoy. We use easy and proven rehab protocols to get you moving again so that you can enjoy your favorite activities.
Health Optimization
Chronic health issues should not be a lifetime burden with poor quality of life. We use cutting-edge functional medicine & nutrition protocols to help optimize your health so you can break free from your diagnosis.
You deserve to live life without limits
"Dr. Senyi is very knowledgeable and passionate about this work and making sure that his patients get the best care they need to live a healthy lifestyle…I highly recommend Dr. Senyi for your health and wellness needs. He fixed me up during my first visit and my pain was instantly gone after the adjustments. I'm able to go back to [the] gym and do other activities I normally do without pain." – M.L
"With fitness and sports as a passion there are times you're gonna get hurt eventually and need care. Dr. Senyi helped me get back on track with my shoulder injury by providing me with the best hands on chiropractic health services." – T.Z.
"After a very short period of time Dr. Senyi has my neck and back feeling better than they have for almost half of my life. I absolutely recommend Soma Chiro 100%." – M.Y.
Dr. Senyi listened to my concerns and did such a great job with my treatment. I walked out feeling awesome on my first visit there and my pain went away as he was adjusting me. I would not go anywhere else. I highly rec this place.

-S.L
Dr. Ly helped me with my neck and back pain. I'm feeling much better after a few treatments. He's flexible to work with and accommodated my schedule. Thank you! – A.V.
"I first came to Dr. Senyi Ly for back and neck pain after being involved in a hit and run collision. I've been to other chiropractors in the past which have not always been pleasant experiences, however Dr. Senyi Ly immediately removed any doubts I had going into my first appointment. Dr. Senyi Ly has continued to provide professional quality care and my pain and discomfort has improved dramatically under his care. I would strongly recommend Soma Chiro & Functional Medicine to anyone who is dealing with pain and discomfort or just looking to improve their current overall health." – T.W.
We are now in-network with Health Partners, Ucare, Cigna, United Health Care, Medica and MN Medicaid. If you have any questions about your insurance coverage please call us at (651)528-7978.
We also accept all auto injuries and work comp injuries.
We are proud to be a network provider for ChiroHealth USA. This allows us to discount Chiropractic services for our cash patients or patients with limited insurance coverage and high deductibles!
There is a one-time membership fee of $49.
Which lowers the cost of the first visit to $61 (regular fee $230) and includes a physical exam, full spine adjustment, and your choice of e-stim, mechanical traction, or ultrasound therapy.
All follow up visits are also 50% off!
Click here to learn more! Or call our office at 651-528-7978 for more information!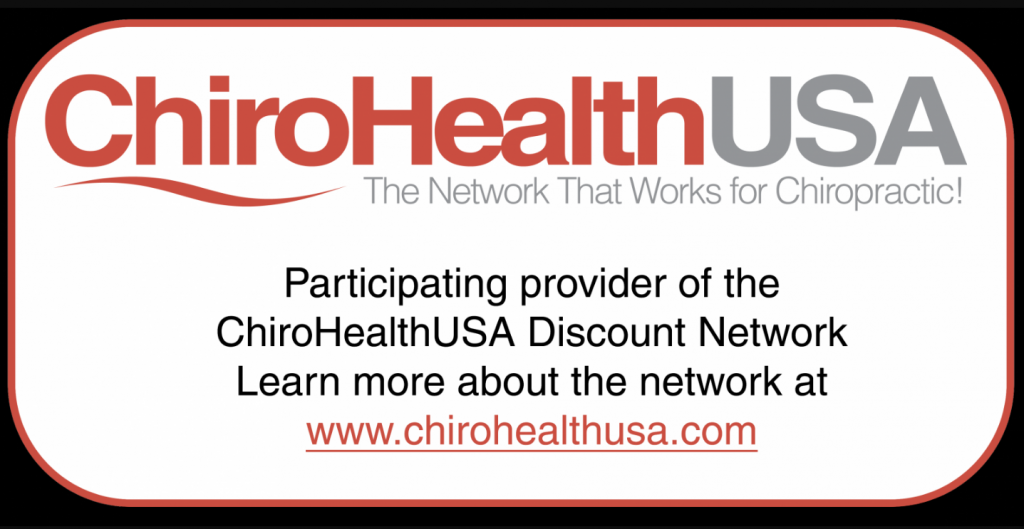 We welcome your business.
We want you to have the best possible experience, and that means paying your way. So choose the card you want to use—we gladly accept Visa, Mastercard, and American Express®.